Much Travelled Larry Hillman
Defenseman Bar None
By Steve Klein, Director News Media Information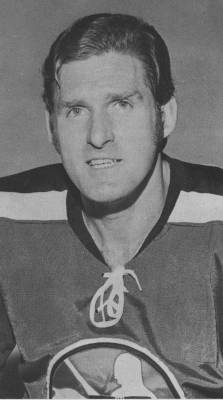 When Larry Hillman played on his fifth Stanley Cup champion as a Toronto Maple Leaf in 1967, he was only 30 years old, a veritable youngster on a team that included Bobby Baun (31), Marcel Pronovost (37), Tim Horton (37), George Armstrong (37), Terry Sawchuk (38), Red Kelly (40), Allan Stanley (41) and Johnny Bower (43).
Seven years and 6th Stanley Cup championship later, Larry Hillman is 37–"Only 37," he'll tell you–and looking forward as a Cleveland Crusader to a 7th championship, the Avco World Trophy awarded to the World Hockey Assoc. champion.
"When I played for Toronto," Hillman remembers, "all the defensemen were over 30, and we were playing for one of the best six teams in the world. Why, two or three were around 40. But age never seemed to hit guys like Allan Stanley and Tim Horton."
Perhaps it is because most of those Maple Leaf teammates were older, or because the old 6-team National Hockey League is now little more than nostalgia that Larry Hillman seems even older than his 37 years, 20 major league seasons and 17 professional hockey teams. Barely a dozen of hockey's greatest names have played as long and no hockey player has belonged to as many teams as Hillman.
"In one season alone, I belonged to 5 NHL clubs," he claims with a smile thinking back to 1968-69. That was the second year of expansion, and Hillman had known only one team, Toronto, for the previous 8 seasons.
"Punch and I had a little dispute over a little money," Larry says of his first and only professional holdout with Toronto General Manager and Coach Punch Imlach. "Punch was always A-1 and fair, but he always got the better of you. That year, after 4 Stanley Cups and 8 years in Toronto, I decided I was going to get my way. Money wasn't really the issue–it was a matter of principle. Punch always got his way, and I wanted to turn it around. I made a stand for what I believed in, which basically came down to what I thought I was worth. But it was either his way or face the consequences. I took a chance."
After sitting out the first 24 days of the 1967-68 season, Imlach got his way. But after the season, one in which the defending Stanley Cup champions finished fifth and out of the playoffs, Hillman was sent on his way to the New York Rangers on waivers.
On the same day (June 12) he was waived, however, he was drafted by the Minnesota North Stars, and that's where Larry started the season. But 12 games into the 1968-69 campaign, Montreal's Terry Harper broke his leg, and the Canadiens obtained his rights as a fifth defenseman to join Jacques Laperriere, J.C. Tremblay, Serge Savard and Ted Harris.
Hillman's 5th team that season was Pittsburgh, but he never got to play for the Penguins. When the Canadiens made their deal, Pittsburgh complained that Larry had not been waived out of the NHL Western Division. After a loss to California the night of their objection, the Penguins were in last place and they claimed Hillman. So Montreal had to trade yet another player, (Jean-Guy Lagace) to the Penguins before Larry was really a Canadien. He rewarded Montreal with steady defensive play that contributed to an old habit, the Stanley Cup, in the spring of 1969.
Larry Hillman became a professional 20 years ago, on March 5, 1955, signing with a dynasty at the end of an era, the Detroit Red Wings. Although he played only 9 games with Detroit that season, 3 of them were playoff games, and his name was engraved on the Stanley Cup with those of Gordie Howe, Alex Delvecchio, Red Kelly, Terry Sawchuk, John Wilson, Bill Dineen, Tony Leswick and Ted Lindsay.
For Larry Hillman, then 18 years old, playing on a championship team with Ted Lindsay had to be a dream come true.
"Ted was from my home town, Kirkland Lake (Ontario)," says Larry, "and he used to take players like Dicky Duff and me skating 90 miles north in Timmins. In the summer, we would see Ted in his big Cadillac with his buddies like Gordie Howe, and the desire to play in the NHL was instilled in all of us early.
"We had 4 choices then. We would work in the mines like all our fathers had, we could go to school for an education, we could learn a trade or we could play hockey. It was more fun to play hockey."
It was also more work. "There was a National Hockey League of 6 teams then," Larry says, "and we never thought it would change. To be one of those 120 players, you really had to work at it. Just to be a 5th defenseman or penalty killer meant something then."
Close to two-thirds of Hillman's professional career was spent in pre-expansion hockey. It was a different game, and with a 5th the number of jobs there are today, it took a special kind of dedication, not to mention ability, to be a major league hockey player.
"In our day, hockey was our living," Hillman says, "No young kid was going to come up and take the bread and butter out of our mouth You either made it with the club you belonged to or you were sent to the minors. Management held all the strings. Today, the players hold all the advantage.
"For 18 years, I signed with NHL teams. I had no option. The year I signed with the Cleveland Crusaders (1973-74), I talked with 5 clubs including 2 in the National League. That was unheard of before 1967, but expansion has put the player in the driver's seat."
For 7 of the 8 seasons Larry Hillman played for the Maple Leafs, he started the year in the minors (6 times in Rochester, once in Springfield).
"One year, the Leafs kept Al Arbour and sent me down. Another, it was Kent Douglass, and he ended up rookie of the year. Ted Lindsay used to say that there was only one place to play, the NHL, and I had in my blood. So any time I was sent down, I wanted to do my best to get back as soon as I could. It was easy to get discouraged–there were openings, usually because of injuries, for only two or three guys to come up a season. I would work that extra time after practice (he still does), and I was always prepared.
"Douglass has that tremendous year, but for the next two or three, I always ended up and Douglass down by the middle of the season. I think it was because I was a better 5th defenseman than Kent. He had to play every other shift to be effective, but I was satisfied just to play at all."
For Hillman, the competition in Toronto was tough. "I don't think we changed defenseman for 10 years," he says, recalling players like Stanley and Horton, Baun and Carl Brewer and later Marcel Pronovost. When down at Rochester, Hillman had teammates like Mike Walton, Jim Pappin and even a goaltender named Gerry Cheevers with the same problems.
Hockey was different game in the pre-expansion days. "Games were tighter played," Hillman points out. "There weren't many games over 5 goals or many decided before the 3rd period. And before they changed the power play rule (a penalized player had to remain off the ice the full two minutes until 1956), team like Montreal could end a game during a penalty and there would be no catching them.
"Teams had great compatability then. The cities weren't so spread out, and often, we'd travel by train. You lived with each other, and you lived with a game and the way you played, good or bad, for days. If you had a grudge against a player or team, you knew you'd be seeing that team in a week or so. There were some great rivalries then, but it's something that you can't maintain today with air travel and schedules that separate teams by months at a time."
In 20 years, Hillman has known many of the game's great personalities–and characters. Larry puts Gordie Howe, Henri Richard and Jean Beliveau a the top of his list of personalities, and Eddie Shore at the top of his list of characters.
"Anyone who knows Gordie will tell you he's two different people on and off the ice," says Larry. "I know how Gordie was day one, and I know how he is day 20, and he hasn't changed.
"Beliveau and Richard are in the same class as Howe. The same things were instilled in all of us at an early age. Hockey was our living, and despite the changes expansion has brought, the game is still played the same way, and played best by those who play it that way."
Larry probably learned how to stay ahead of the game during the 1962-63 season, most of which he spent playing for Shore in Springfield.
"Eddie was the master of creating unheard of situations," says Larry. "He was man of ever changing moods. If he felt like blowing up balloons for Ice Capades or washing his Cadillac was part of your job, you blew up balloons or washed the car. Otherwise, he fined you. And if Eddie caught you close to a curfew and said you were late, you were late, no matter what all the clocks in the world said. Usually, it would be 10 or at the most, 15 minutes. I've kept my watch 30 minutes ahead since that season in Springfield. I call it "Shore time." He hasn't caught me yet."
And at 37, 20 professional seasons and team No. 17, time hasn't caught Larry Hillman yet, either.