Welcome to the
World Hockey Association Hall of Fame
---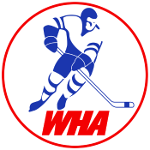 Carrying on the legacy established by the late Tim Gassen, the WHA Hall of Fame provides a comprehensive resource on the history of the league, including game results, summaries and player stats from its colorful seven-year history.

Click on any of the menu items to proceed.

Credits include Scott Surgent's Complete Statistical Guide To The World Hockey Association, hockeydb.com, hockey-reference.com, stingershistory.com, Winnipeg Free Press, Winnipeg Tribune, The Globe and Mail, Toronto Star, philablazers.com, Total Hockey: The Official Encylopedia of the National Hockey League and many WHA team media guides.
Constructive comments, corrections and/or contributions welcome.
Curtis Walker
Curator and Caretaker of the WHA Hall of Fame
curtis -at- curtiswalker.com
CurtisWalker.com