Honored Members
Following a 2010 ballot voted on by members of the WHA HOF Advisory Board, invited media, hockey historians and former WHA personnel, the inaugural class of inductees was announced:
Forwards: Serge Bernier, Real Cloutier, Robbie Ftorek, Anders Hedberg, Bobby Hull, Andre Lacroix, Danny Lawson, Kent Nilsson, Ulf Nilsson, Terry Ruskowski, Marc Tardif, Mike Walton.
Defensemen: Ted Green, Al Hamilton, Rick Ley, Ron Plumb, Paul Shmyr, Lars-Erik Sjoberg, Pat Stapleton, J.C. Tremblay.
Goaltenders: Richard Brodeur, Gerry Cheevers, Joe Daley, Ron Grahame, Al Smith, Ernie Wakely.
Coaches: Jacques Demers, Bill Dineen, Jack Kelley, Harry Neale.
Builders: (Off-ice notables who helped make the WHA possible) Howard Baldwin, John Bassett, Gary Davidson, Ben Hatskin, Bill Hunter, Dennis Murphy.
Legends of the Game: (WHA players or coaches who performed to Hall of Fame levels in another major league and who also deserve recognition for their significant contributions or career start in the WHA) Michel Goulet, Wayne Gretzky, Dave Keon, Frank Mahovlich, John McKenzie, Mark Messier, Jacques Plante, Glen Sather (coach).
In addition, the Howe family (Gordie, Mark, Marty and Colleen) was inducted collectively rather than as individuals.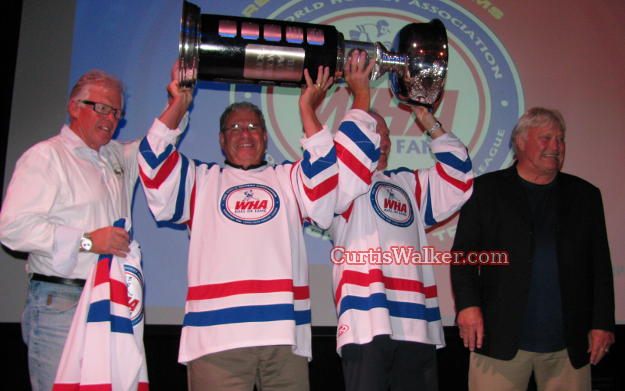 Ulf Nilsson, Joe Daley, Anders Hedberg and Bobby Hull at the August 2010 induction ceremony in Winnipeg.
A subsequent 2012 ballot added the following inductees: Christian Bordeleau, Rich Leduc, Larry Lund, Tom Webster, Bill Friday (Builder), Mike Gartner (Legends of the Game), Rod Langway (Legends of the Game).