SHAKEY MIKE WALTON
Can he score 50 goals?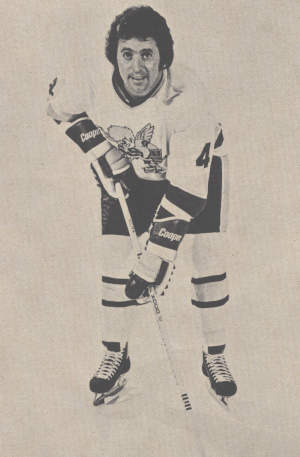 It was early in his hockey career that Michael Robert (Shakey) Walton got this feeling that someone up there didn't like him.
Up there. That was with the Toronto Maple Leaf organization, the National Hockey League franchise which owned Walton's rights.
Right from the start it was always a hassle with the Leafs, said Walton, one of the Minnesota Fighting Saints' newest acquisition and a player expected to beef up Coach Harry Neale's attack.
"It just seemed Toronto was always on my back, demanding that I prove myself, even after I felt I had established that I was a National Leaguer.
"It was a very bad situation and in no way can be compared to the time I spent in Boston with the Bruins. I really hated to leave Boston but it was simply a matter of finance."
High finance, really.
"I can't discuss any figures, but it was a very good contract and Boston's offer was also very respectable. But the Bruins' just didn't come close."
It was a summer, to say the least, that Walton really felt wanted. At Toronto he felt as welcome as a slap shot is to a goaltender.
In his 10 years in the Leafs system, Walton did so much proving of himself he began to feel like an equation.
Take 1963-64 for example, the last year he played junior A hockey for the Leaf-sponsored Toronto Marlboros of the Ont. Hockey Association.
In 53 games he scored 41 goals and 51 assists for 92 points and was one of the key players in leading the Marlies to the Memorial Cup title, the Super Bowl, World Cup and Stanley Cup championship of junior hockey in Canada.
Jim Gregory (now Leaf GM) was our manager at Marlies then and he felt sure I would get an invite to the big club's training camp even though I had a year left of junior eligibility. Lots of our players got invites to camp, but mine never came. Finally Gregory went to bat for me and convinced them to give me a look.
Walton gave them an eyefull. He had an outstanding training camp, impressing such longstanding Leaf veterans as Frank Mahovlich.
Toronto, then under the one-man rule of Punch Imlach, coach and GM, said nice going kid. Heckuva camp. You can score. You hustle. You hit. Got all the makings. How would you like to go to our Central Hockey League farm club in Tulsa, Oklahoma?
Undaunted, Walton went, passing up his last year of junior in which he surely would have to be one of the OHA's top two or three scorers.
At Tulsa he scored 40 goals and 44 assists in 68 games. It was enough to earn him rookie of the year honors and of course he kept thinking about next fall when he would get another shot at making the Leafs big roster.
Although less impressive in his second shot at winning a job with Toronto than he had been the year before Walton still had a good camp. And, of course, it should have been considered the year that he had at Tulsa.
But you knew they weren't going to keep him, said Red Burnett, a veteran Toronto hockey writer. From day one of camp there was talk about him needing more seasoning. Heck, he needed more seasoning like a Mexican dish needed more seasoning.
Walton heard the speech again. Nice going, heckuva camp, you can score, hustle, hit. How would you like to go to our American League Club in Rochester?
It was kind of discouraging but I went, said Walton. I knew it was going to be touch to crack Leafs. It wasn't all that long ago but you can't forget that there were only six teams at the top in pro hockey so jobs were a bit limited.
With the Rochester Americans in 1965-66 he scored 35 goals and 51 assists and again was named rookie of the year. It was enough, Walton figured, to make the big club want to keep around fulltime in 1966-67. It wasn't.
He again started that season with Rochester and after scoring 19 goals and 33 assists in 36 games was finally summoned to Toronto. He played the last 31 games of the NHL–in spot duty only–and still managed seven goals and 10 assists.
In 1967-68 he started the hockey campaign with Toronto and in that year–if there were any doubts before–it became established in his mind that Toronto wasn't his niche.
I was leading the club in scoring in December when we went into a game in Chicago, Walton recalls. I was told not to dress. Since I wasn't hurt I knew something was wrong. After the game I was asked I'd go back to the minors Walton paused, "get my confidence back?" The club's leading scorer needed a confidence builder?
He balked at going and missed five games before he and his attorney delivered an ultimatum to let him continue at Toronto. The Leafs did.
Walton finished that year with 30 goals and 29 assists which might have been good for rookie of the year honors had he not appeared in 31 games the year before. The Calder Cup, the NHL rookie award, went to Boston's Bobby Orr that season. He would have been a pretty tough guy to beat out even if I were eligible, said Walton.
By then it was just a matter of time before Walton knew he had to get away from the Leaf setup. He and Imlach had some run ins mainly because when asked by reporters, Walton told them what he thought. Since it wasn't always what Imlach thought, there was a clash.
I was always being put down. The situation went from bad to worse to worser, said Walton. I was unhappy.
The issue festered in 1970 when Walton played in only 23 games and then left the team for good. The end result had a Toronto psychiatrist stating that the stresses on Walton playing in Toronto were too great and he should be allowed to play elsewhere.
Walton felt the issue was blown somewhat out of proportion. Despite his nickname of Shakey, strictly inherited from his father who was called that when he played pro hockey, there wasn't anything wrong with his head that a change of scenery wouldn't correct.
In a three-corner deal he moved to the Boston Bruins. Toronto got compensation from Philadelphia who received players from the Bruins. He finished the season with the Bruins so-so (3 goals, 5 assists in 22 games) and then in 1971-72 scored 28 goals and 28 assists on the beantowners Stanley Cup championship club. It was Walton's second Cup title. He had also played on the '66-67 title team.
The only thing better than another Cup title would be his best career year and Walton figured he was going to accomplish that last January when the Bruins made a trip to St. Louis. He already had 21 goals and 16 assists in 37 games, putting a 40-goal definitely within reach and who knows, perhaps even more.
It was that night in St. Louis that he was thinking somebody up there must have liked him after all and it wasn't the Toronto hierarchy.
During some horseplay in the Bruins St. Louis hotel, Walton fell through a glass window and was cut up so badly they almost called for a zig-zag machine. He took more than 150 stitches.
It was just an example of what can happen when people fool around. I was guilty; too. We had arrived and some of our bags were lost. We were all in one of the rooms borrowing some clothes from the guys who got their luggage so we could go out. There was some teasing about who had the best clothes. Somebody–it is not important who–started to throw some water on me. I jumped back tripped and went through the glass.
Coincidentally, and then again maybe not, the Bruins lost the game and the next night as Walton lay in the hospital checking the stitchwork. In fact, they lost five of their next seven games which in the tough NHL East was enough to sink them from first place to fourth.
In total, Walton missed 22 games. Boston continued to struggle.
Walton tries to explain what happened to the Bruins last year when the club went from Stanley Cup champs to second in the East and were knocked out of playoffs on the first round.
We missed Gerry Cheevers some (the goalie who left for the WHA team in Cleveland,) said Walton. But you really couldn't fault the goaltenders. The goaltending was bad in the playoffs, but during the season it was good enough.
I think it was just one of those situations where everyone went sour at the same time. Usually two or three or four players might go into a tailspin. But the rest will pick up the slack. That sort of thing goes on during a hockey year because you just can't play a season where its full speed all the way.
There was also some turmoil about Sandy (Derek Sanderson) coming back to Boston from the Philadelphia Blazers and maybe everyone wasn't concentrating like they had the year before. There was always conversations about switching leagues and contracts and then when the stories started about the Storey Broadcasting Corps buying the team that gave everyone something else to think about.
These aren't excuses. The biggest thing I think was still everyone playing poorly at the same time. The team put on a helluva rush and finished second but just didn't have anymore to give in the playoffs.
Walton is looking forward to playing with younger brother Bob who also came to the Saints this summer. "We've never played on the same club before (the Waltons were the first WHA brother combination although the Howes in Houston signed later). I believe he'll be one of the top three centers in the league.
Personally Shakey has some very solid goals for 1973-74. About 50 of them to be exact. That sounds like a lot, I know, but I think I can score that many. The Saints have made me a great contract and everything. Now its up to me to show that I'm worth it all. I want to help this team be a first place club which I believe it can be.